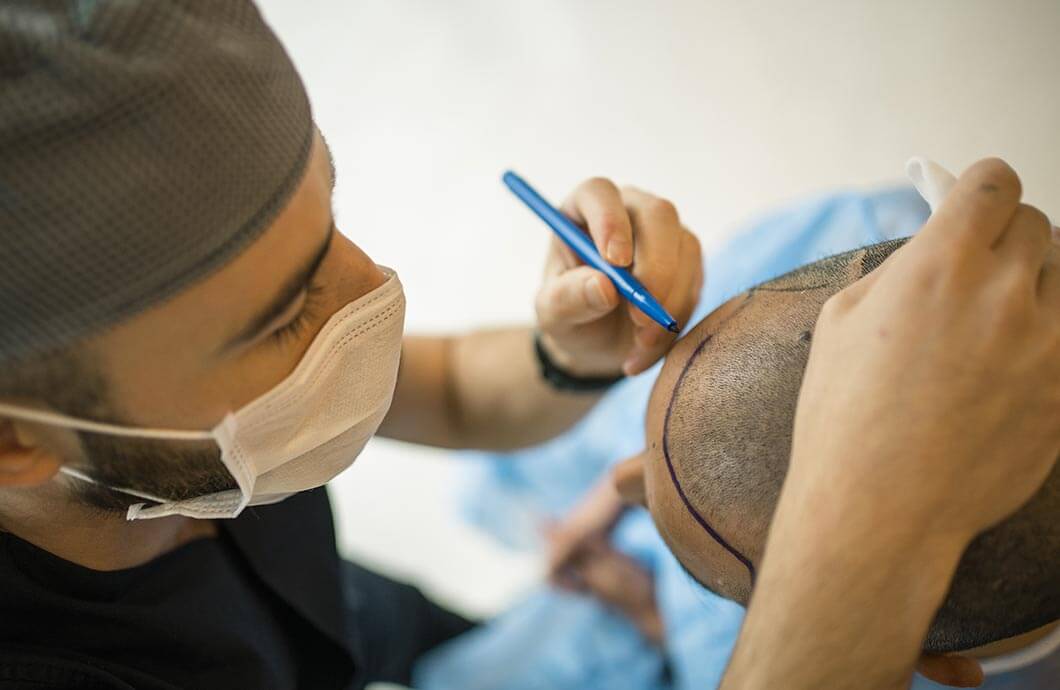 When to Go For Hair Transplant?
Beautiful locks are one of the most desired features that all, irrespective of their age and gender, crave. But one fine morning when you wake up and look into the mirror, you may find scalp where there should have been hair.
This is a common occurrence that most of us have experienced at one point or the other.
Research suggests that approximately 60% of the men and 50% of women of all age groups experience this worldwide. In fact, two-third of the men experience this before the age of 35. In worst-case scenarios, men, as early as in their 20s, can be affected by hair loss.
The shock of accepting an undesired hairline can be quite visceral. This is especially concerning for those who lose hair at such an early age.
Reasons for Untimely Hair Loss
Male/female pattern baldness due to genetics (having a baldness history in the family) or hormonal changes is the major reason for hair loss in most cases.
Premature baldness does not just affect someone's looks but also their self-esteem. This is what inspires many to consider a hair transplant treatment.
Do Hair Transplants Work?
When compared with over-the-counter hair restoration products, hair transplant is much more successful. But there are certain factors that you should take into account.
About 80 % of the hair that is transplanted will grow back completely in approximately 4 months.
People who have dormant hair follicles (sacs usually containing hair below the dermal surface but do not grow hair anymore) can have less successful transplants. However, studies suggest that plasma therapy can come to the rescue at this point. It can make almost 80% of the transplanted hair grow back completely.
Hair transplants are not for everyone. It is primary used for hair restoration if you have thinning hairline or are balding naturally or have lost hair because of an injury.
Most of the transplants are accomplished with your existing hair. Hair transplant is not so effective for those with-
Hair loss due to some types of medications or chemotherapy
Widespread baldness and thinning
Thick scars on scalp from injuries
Important things to consider while opting for Hair Transplant
There are various things to consider when you are opting for a hair transplant. Take a look.
Your Expectations The donor's hair is of limited supply in one way or the other. However, this hair is sourced from an area of the body that is not prone to hair loss. This implies that you do not have to stress over the fact that you have to immediately go for a hair transplant apprehending that the hair will fall out otherwise.

But you need to understand where to put that hair for best use or on which part of your scalp the hair should be put that will make you the happiest. You must go in with the right expectations for the best outcome of any hair restoration process.

The Cost If anyone says that hair transplants are cheap, that's not true. This procedure calls for a fairly large financial investment and that is why it is a determining factor in this case. You should analyze whether you can afford a hair transplant now or if you need more time to save up for it.

Remember that restoring your hair is not a cakewalk. A quality HT treatment ensures that it lasts for a lifetime without the need for you to go for it again. This is an advanced cosmetic procedure, and you can be rest assured that the investment for hair transplant would be worth every penny provided you do your research and choose the right center, time and surgeon to execute it.

Current Level of Hair Loss If you have tremendous hair loss or a receding hairline, going for a hair transplant can turn out to be a potential remedy.

Determining the level of hair loss will help you identify whether it is the right time to go for hair transplantation or no. During the initial stage of hair loss, one can opt for different hair growth treatments.
Once the hair loss turns into bald patches or receding hairline you know that it is time to visit a hair transplant surgeon.

Finding the Right Surgeon A key factor for determining the look of your hair transplant is the experience and skill of your surgeon. That is why you should choose your surgeon after proper research.

It is advisable that instead of a general plastic surgeon specializing in a variety of procedures, you opt for an experienced surgeon who specializes in the restoration of hair specifically.

Only by selecting an efficient surgeon, you can restore your hair thickness and original hairline with the help of a transplant.

Your Age Experts opine that men in their early 20s are not the best candidates for hair transplant surgery. This is because the actual cause of pattern for hair loss may not be fully determined until that time.

Before recommending the most suitable hair transplant procedure for you, the surgeon always takes into account several things like hair loss pattern, hair loss type, size of the balding area, and quality of the hair on the donor site.

In the hair restoration process, the surgeon actually extracts follicles of hair from the donor site.

This can either be a full strip from a portion of the scalp that has healthy growth of hair (FUT) or individual hair follicles (FUE). These follicles are then segregated into units and transplanted into the region of balding. The incisions on the head recover with time and the follicles start to promote the growth portion.

The grafting process varies on the hair loss severity and the facial features of the patient. This is to ensure that it looks as natural as possible. Nothing is quite determined in the case of the younger patients be it the severity of the hair loss or the hair loss pattern.

That is why experts always advise going for hair transplantation after 25 years of age.

Self-Confidence/Self Esteem It is quite common to experience a loss of confidence when you go through hair loss or a receding hairline. Research suggests that hair transplantation significantly elevates self-esteem and also ensures a higher level of confidence. But that should not be the only reason to go for a hair transplant.

You must ensure that you have taken into consideration all the above factors so that you can have successful hair transplantation that will ensure true value for money.